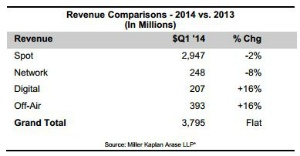 The Radio Advertising Bureau (RAB) today released its first-quarter revenue report for the radio industry. Overall, earnings were flat year-over-year, comparing with the first quarter of 2013. The results mark the fifth consecutive quarter of flat year-over-year revenue.
The story would be less hopeful if not for digital sales and off-air sales, which showed dramatic gains: 16% for each (totallin $600-million in revenue).
Spot revenue was down two percent, or $3-million dollars.
"The double-digit gains in the Digital and Off-Air sectors this quarter highlight the growing interest among advertisers in utilizing Radio's multiple facets," said Erica Farber, RAB's President and CEO. "With Radio broadcasters increasingly dedicating their efforts to improving and supporting their digital channels, local and national advertisers alike will find these platforms increasingly attractive to reach audio consumers."