In what Fred Jacobs calls the first radio-oriented trade conference in the motor city, several industries are intersecting this week to examine connected cars. Jacobs and his company, Jacobs Media, are hosting DASH, The Connected Car AudioTainment Conference.
Top execs from radio companies (Entercom; Greater Media), automakers (Ford; GM), solution providers (Clip Interactive, uBiquity), and Internet content brands (ESPN Audio, Pandora, TuneIn) had representatives on stage in Day 1 of the two-day event.
Automotive Keynote presenter Julius Marchwiki (chief of Ford's SYNC AppLink product) emphasized the changing landscape of consumer technology, noting that by 2015 two-billion smartphones will be on the street, holding 180-billion app downloads, and claiming that 75 percent of survey respondents want to connect their phone to the car.
Entercom CEO David Field took a more complacent tack in a slideshow that emphasized AM/FM's reach, while acknowledging recent survey data from Edison Research indicating that over half of connected Americans listen to Internet radio. Field asserted that, despite all disruptions implied by a conference devoted to multi-modal car listening, broadcast radio is in a "golden age."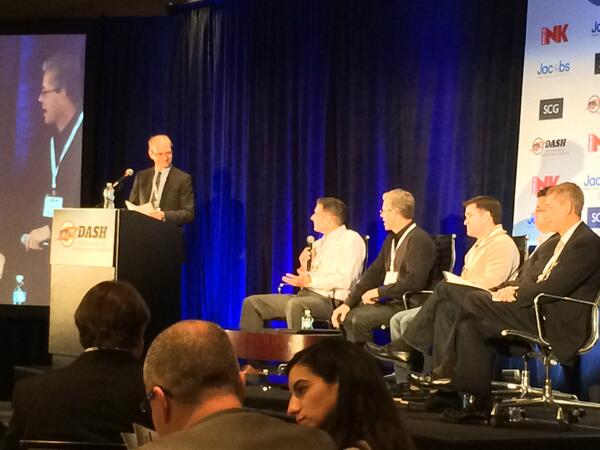 In the first of two "Breaking News" panels, Blair Cullen of ESPN Audio caused Twitter to light up over his remark that "the car is going to be the most expensive iPhone accessory ever built." In the same panel, Patrick Reynolds of Triton Digital prophesied: "The future will be won by those who see themselves and publishers, not stations."
In the day's final discussion panel, George Lynch of Pandora (head of Automotive Business Development) said, "Pandora is the next generation of FM."
The DASH conference continues Thursday, adding car dealers and radio DJs to the mix of panelists.