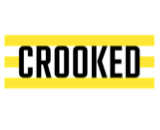 With an ambition to make podcasts more accessible, the Crooked Media network has partnered with Adobe and its Premiere Pro's speech-to-text technology to create captioned videos of podcasts.
The Adobe product is being used across Crook Media's video platforms, on selected content which includes interviews and clips from the network's flagship audio show Pod Save America.
Production speed is key. Crooked Media's shows are often topical, and making captions manually — which are often derived from transcriptions which themselves can take 24 hours to finalize — takes too long. Adobe says its machine learning AI automates and speeds up the entire process of putting a readable product next to the audio and video uploads.
Below is a behind-the-scenes video (and advertisement):
"When Crooked Media debuted in 2016, we were purely a podcast company, but we quickly learned that video was going to play an important role in helping us reach new audiences and make our content accessible to more people," said Matt DeGroot, senior director of video production at Crooked Media. "However, the tools in the market didn't offer the speed and accuracy that we needed for our quick production turnaround times. Speech to Text in Premiere Pro allows us to put high-quality captions on all our video content, opening the door for more people to participate in the podcast experience."
"Making amazing podcasts is Crooked Media's bread and butter, and we're big admirers of their work," said Meagan Keane, principal product marketing manager at Adobe. "It's so exciting for us to see Speech to Text in Premiere Pro being used by a company that produces some of the most informational and entertaining podcast content available today, and we are proud to know that it's helping to make their shows more accessible so that more people can partake in the experience."
.