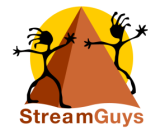 Cox Media Group has partnered with StreamGuys to adopt a turnkey streaming platform for its radio network, live broadcasts, and on-demand podcasts. StreamGuys has created a software-as-a-service for the media company that offers both content management and a delivery network.
Tim Clarke, Cox's senior director of digital audience, said that StreamGuys' open-architecture approach to the platform would support the goal of a ubiquitous digital presence. "Their infrastructure and technology, along with competitive pricing and expertise in broadcasting, gives us incredible flexibility in the management and delivery of our network-wide streaming initiatives," he said.
For instance, the SGPlayer offers an HTML5 multimedia player for each of the Cox stations that includes metadata for listeners and analytics for clients. Cox is also using SGrecast for its on-demand podcasts, and StreamGuys' AdWave connectivity for advertising tasks.
"Our listeners want access to our content on their timetables and the devices of their choosing; SGrecast allows us to extend the life of content beyond the live linear broadcast," said Clarke. "We can now provide content such as news, traffic and weather in an on-demand audio format that is easily consumable in our apps and on our websites. Additionally, we can offer a more advanced level of targeting to our advertisers, giving them more meaningful opportunities to reach our collective listeners."