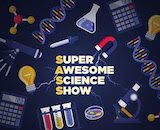 Corus Entertainment, a top media company in Canada, announced the launch of the first science and technology podcast for its Curiouscast network. Super Awesome Science Show debuts today and will release new episodes weekly on Tuesdays. Host Jason Tetro is a researcher, educator, and best-selling author in Canada with a focus in microbiology and immunology. The podcast will explore answers to big questions in science topics such as blockchain, climate change, and artificial intelligence.
"We are thrilled to be launching our first science and technology podcast on Curiouscast with Jason Tetro and know that listeners are going to love this show as much as we do," said Chris "Dunner" Duncombe, Director of Streaming and Podcasting for Corus Entertainment.
"I'm excited to join Curiouscast and have the chance to talk about science in a way that is completely different," said Tetro. "Canadians are curious about science – we see this in every survey – but unless it matters to them, the information is little more than a fun diversion. Each week, I'm going to show how discoveries from the lab matter to everyone."
Curiouscast debuted this year and has been assembling a roster of original productions based in Canada.