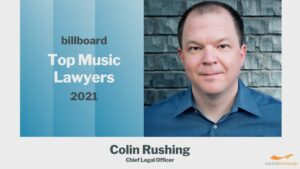 Colin Rushing, Chief Legal Officer of SoundExchange and RAIN Summit speaker, is honored in Billboard's release of its Top Music Lawyers 2021. It is the only award in its category (Performing Rights) that relates directly and exclusively to streaming audio.
In his acceptance comments, Rushing noted that SoundExchange never missed a royalty distribution "at a time when our royalties are more critical than ever." SoundExchange is the government-regulated collection and distribution entity for label royalties generated by non-interactive online streaming services such as internet radio stations and — most significantly — Pandora's non-subscription listening.
""We moved to fully remote work basically overnight," Rushing said, "thanks to our extraordinary team, we did so seamlessly. And because of the royalty rates and structures we've achieved in past rate settings, as well as the ongoing vitality of digital radio, our collections and distributions have remained basically steady."
He noted that the legacy of 2020 will be a rapid acceleration toward streaming from "old-school broadcast FM radio — a platform that still pays artists nothing." (That, of course, is an old and persistent axe to grind.)
The Billboard Top Music Lawyers list is an epic collection of top legal staffs across major music groups, streaming, live music, music publishing, performing rights, and talent agencies. Anyone seeking an understanding of the legal unperpinning in American music can productively browse this list.
.