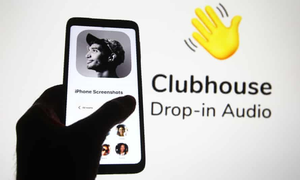 The trending invite-only, iOS-exclusive, live-audio meeting app Clubhouse has announced the launch of a creator accelerator program with an open application program. "We are launching our first creator accelerator program, Clubhouse Creator First. We are looking to support and equip 20 creators w/ resources they need to bring their ideas and creativity to life," the company posted yesterday on Twitter.
Details from Clubhouse itself are scarce, but reporting at SocialMediaToday notes that the selected creators will receive equipment if required, assistance in developing concepts, and assistance creating brand sponsorship opportunities. According to this report, Clubhouse will ensure that those who are selected for the program are provided with at least $5000 in guaranteed monthly income.
The application process is open consisting of a questionnaire HERE. It's clear that Clubhouse isn't effete about audio production — the application is interested in TikTok, YouTube, Twitch, and blogs. The process does inquire about audience size of current projects. Applicants must submit examples of their output, and what prospective benefits of the program would be most useful for them — mentorship or training, for example, or booking guests, or promoting a show.
Application deadline is March 31.
.