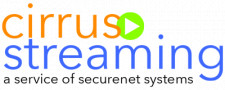 Cirrus Streaming, which provides many kinds of enterprise streaming services from cloud streaming to Alexa service, has built and released a comprehensive podcasting solution. The single-dashboard solution suite includes hosting, editing, monetization, and distribution.
The production part of this has the Advanced Podcast Editor at the center. It's a multi-track, waveform editor that allows podcasters to trim, splice, and insert segments in their audio files within the web browser platform.
When it comes to monetization Cirrus provides what it calls a full-control ad server. Podcasters can bake spots into their files, and/or digitally monetize listenership with audience targeting.
Universal RSS distribution is in there, neither surprisingly nor uniquely. Cirrus emphasizes the ease-of-use in this feature, which can be important as requirements across all podcast apps are not a universal template.
Cirrus has historically worked in the broadcast realm, so it's not a surprise that radio is accommodated with special podcast tools. Notably, broadcasters can create podcasts from live streams.
Cirrus Streaming CEO, Nick Csakany, said, "With the rise in podcasting during the pandemic, it's more important than ever for content creators to take full control of their material, so we've taken this into consideration to provide everything they need in one place. If we can remove even one extra paid service out of the podcasting stack, we're successfully saving podcasters time and money."
The product doesn't seem completely productized … which is to say, it doesn't have a name and we don't see it broken out on the Cirrus site. But it is announced, and we're told it is sold by monthly subscription with no minimum time periods.
.