Podcasting is "coming of age" in China, according to a new report from eMarketer. The research firm projects double-digit growth through 2025.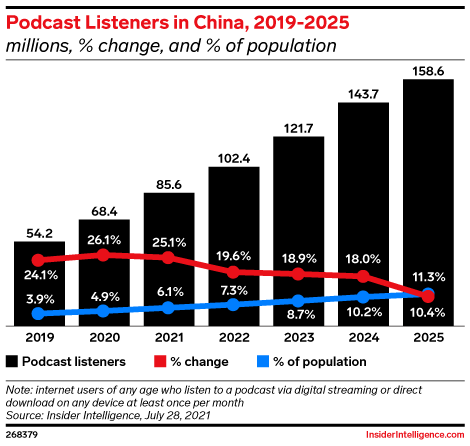 However, even as the growth involves large numbers of people consuming podcasts due to China's immense population size, the percentage of that population remains small compared to the U.S.
This year over 85-million people in China will be podcast listeners. Compare that to 165-million podcast consumers in the U.S. according to the Edison/Triton Infinite Dial 2021. China will only approach that number by 2025, when eMarketer projects 157-million listeners.
The difference between the two countries is more dramatic when considered as a percentage of population. This year, an expected 6.1% of the Chinese population will have listened to a podcast. Infinite Dial reports that 57% of Americans have consumed at least one podcast.
eMarketer says this about the China trendline: "The current low penetration is partially due to the industry's slow start and the abundance of competing digital audio options. During the past couple of years, however, adoption of podcast listening has been growing rapidly, driven by younger generations and investments from large internet players."
The company notes that podcasts are starting to enter big digital distribution platforms like Tencent Music and Entertainment. Ximalaya is also mentioned as a key distribution point.