Podcast analytics and attribution company Chartable is launching a new division: Chartable for Brands, which employs new features to the firm's tech stack targeted to branded podcasts. The announcement is in an informative company blog post called The Branded Podcast Explosion.
Chartable bullet-points those features this way:
The first-ever firmographic enrichment for podcasts—find out exactly which companies are listening to your branded podcast, powered by Clearbit
Brand Impact, the easiest way to measure the ROI of branded content
Firmographic is an interesting feature name. Chartable says it allows companies with podcasts to discover which other companies are listening, and which episodes are pulling in new listeners from new companies. This intelligence is powered by Clearbit.
Brand Impact connects podcast downloads to attributable events like website visits, app installs, and purchases.
Pacific Content — a leading producer of branded podcasts — is involved as a launch partner. In addition to that core business, Pacific Content offers audience development services for branded podcasts, including media buying, show marketing strategies with attribution measurement, and brand-specific metrics.
To support this launch, Chartable unleashed an internal data trend showing the growth of branded podcasts. It shows nearly 100% year-over-year growth for two years.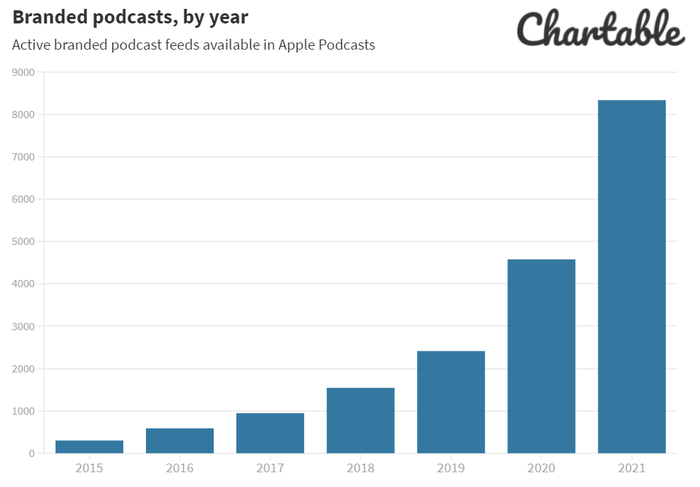 .