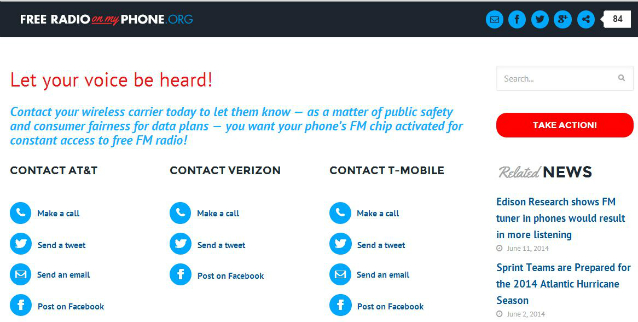 "Wireless carriers are dragging their feet and won't activate the FM chips that are in every smartphone." That's the blunt message in a website campaign mounted by NPR, American Public Media (APM), Educational Media Foundation (EMF), the National Association of Broadcasters (NAB), and, of course, NextRadio. (NextRadio is the enhanced-radio app available to Sprint customers who own FM-enabled phones.)
The website is called Free Radio on my Phone (freeradioonmyphone.org). Its intent is to whip up some virality around the idea of activated FM chips in smartphones, but providing one-click ways to socialize the meme on Twitter and Facebook, or petition phone companies and Congress via email and phone. It's nicely laid out, simple to use, and might get some traction.
RAIN's coverage of this issue has been, and continues to be, supportive — if only because … why not? Phones have unactivated FM chips in them already, so the campaign is not advocating significant (or any) expense to merely turn on a component already built in.
There are other reasons for allowing smartphones to receive FM signals. The campaign website mentions two: Radio's preeminent coverage of emergencies which is the industry's inherent mandate, and freedom from data charges that can apply to customers who stream Internet radio on their phones. (That last point is gradually being reduced: see T-Mobile's elimination of data charges for selected music services, and ROK Mobile which likewise provides unlimited music streaming.)
Here in the RAIN editorial office, we miss the old days when FM reception was in the standard feature set of MP3 players. When Apple released the iPod, (and later the iPhone, which is essentially an iPod that makes phone calls), lacking FM reception, radio fell out of the feature template established for smartphones which replaced MP3 players.
Inside Radio notes that commercial radio groups will escalate the campaign further in the fall.