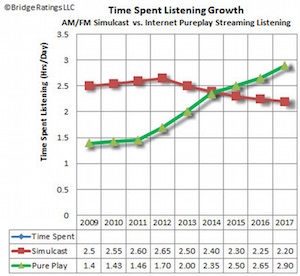 Dave Van Dyke of Bridge Ratings Media Research has published some recent data about pureplay listening in a LinkedIn post. "Something interesting is happening on the internet streaming front," Van Dyke writes. "Satisfaction and time-spent with broadcast radio streaming is slipping, soon to be overtaken by on-demand pure play streaming sources (Pandora, Spotify, iTunes, etc).
Van Dyke is presenting a chart that projects listening hours for online pureplay tovertaking online AM/FM simulcasts in 2015. He found levels for both listening styles were about 2.4 hours a day in 2014, as daily time spent listening to simulcasts has declined 9.4% since 2012, according to Bridge Ratings.
According to Bridge's survey, the inability to personalize their listening was the reason why 85% of respondents said they listened less to terrestrial radio broadcasting online.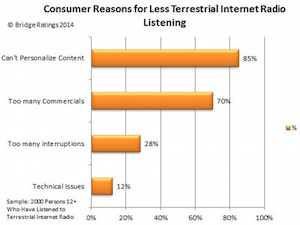 Van Dyke's TSL research is directionally similar to Nielsen's quarterly Total Audience Report for Q3 2014, which shows a slight drop (1.7%) in a year-over-year comparison of broadcast listening — that is different from Van Dyke's focus on terrestrial simulcast streams.
Today's release of the Triton Digital Webcast Metrics Top 20 Ranker reveals a 1% drop in terrestrial stream listening across a cohort of a dozen top broadcast entities — again, the same direction as Bridge, though less dramatic than Van Dyke's 45 drop from 2013 to 2014.