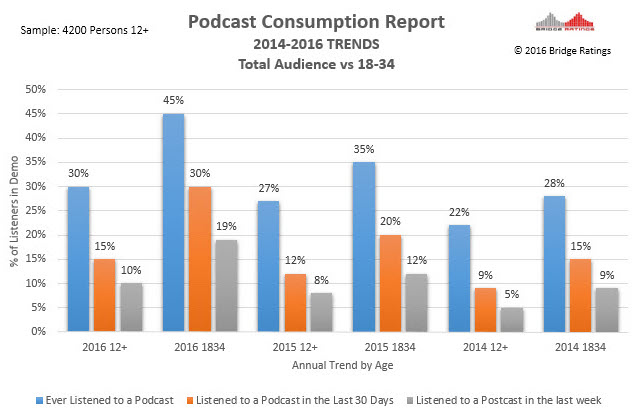 Bridge Ratings released data about the podcasting trend, sharing audience data so far for 2016. According to their findings, 30% of study participants have ever listened to a podcast. That proportion rose to 45% for the 18-34 age group.
However, the numbers fell off when participants were asked about podcast consumption within the last 30 days (15%) and even lower for the last week (10%). In the 18-34 group, 30% had listened in the last 30 days and 19% in the last week.
That demographic also expressed strong interest (70%) in consuming podcasts through the same models as online music listening. They voiced a 52% interest in listening to at least one podcast in the next month under that structure. "Bridge Ratings has found a rising tide of opinion by average audio consumers that asks the question: Why aren't podcasts streamed like music?," the company said.
The research covered a sample of 4,200 people aged 12 and over.