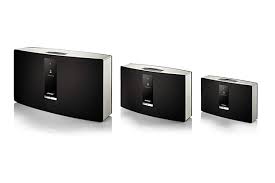 Mere days after Samsung launched its Wave WiFi-controlled speaker system (RAIN coverage here), with Pandora and TuneIn onboard as presets, Bose brings to market a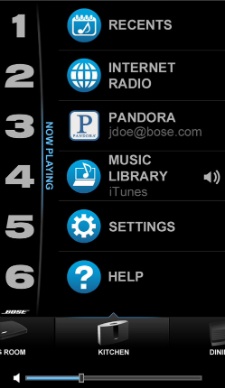 similar product — but with differentiating features that more clearly position it, and the category, as a proposed replacement of home radio. (Sonos is another player in this field.) 
Like competitors, Bose SoundTouch latches onto the home WiFi connection, is operated by a smartphone or tablet app, and can be controlled to send one stream to all rooms, or program rooms separately, and features built-in options — Pandora in this case, plus radio webcasts.
This basic package defines an aspiration to redefine "home radio" as an IP-delivered stream of Internet programming, mixed with private music collections. In other words, these devices perform like a musically well-equipped computer or smartphone, pulling from clouds and file folders with equanimity.
Bose accentuates its emulation of radio by putting push-buttons atop each speaker, matching the six presets provided by the mobile app. When you assign those presets in your smartphone, you can activate them by pushing the hard button. In this clever way, SoundTouch can become a Pandora radio receiver that brings a comforting familiarity to users who enjoy Internet radio's customizable listening, but dislike the finicky finger-on-glass mode of turning on some music.
Each SoundTouch speaker is priced at — wait, sit down before we tell you, especially if you have a big house and want to put music in several rooms — 700 dollars. Take heart, though: you can opt for a scaled-down version (less impressive sound) for [gulp] only $400. Hey, if the U.S. government can't solve its fiscal problems, you shouldn't worry about yours.