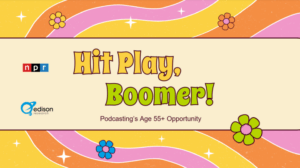 In nearly every listening metric, the Boomer generation lags younger groups when it comes to involvement in online audio generally, and podcasting specifically. That's the conclusion of an interesting and revealing collection of data from Edison Research and NPR.
Reaching into a deep well of survey work — mainly The Infinite Dial public study and Share of Ear subscription product — Edison has collected 50 slides of metrics revealing how Boomer listening compares to younger adults and teens. The release idenitifies several clear identifiers for marketing to this key group of older listeners.
After presenting the info yesterday via webinar, Edison has released the entire deck. Here are key takeaways noted in the presentation:
While a strong majority (70%) of Boomers are aware of podcasting, less than half have ever tried one. However, more than half of Boomers listen to some other form of online audio, implying immediate upside potential for podcasting.
Boomers have the tools to listen to podcasts, with four in five owning a smartphone and more than 60% owning a smart TV. The challenge is to get them to use these devices for podcast listening.
Boomers who do listen to podcasts over-index for listening to news podcasts by a huge margin, and by smaller margins to history, religion, and science podcasts. Closing the technical gap and making podcast listening easier, while finding more pathways to their topics of interest, is a key.
Those in the 55+ age group have historically shown much higher numbers for direct response advertising and for direct appeals for funding. The right programming and the right messaging can make this target attractive not only to advertisers but perhaps for subscription, donation, or other financing models.
Our more general learning is that Boomers have distinct listening and tech-adoption metrics that not only identify the group, but also point to how it can be targeted by podcast marketing. One example: While the 12-54 group uses Instagram and Facebook in double-digit percentages, Boomers are overwhelmingly Facebook users. In an era when YouTube is often evangelized for podcast presence and marketing, Facebook is rarely mentioned as fertile ground for reaching a growing audience.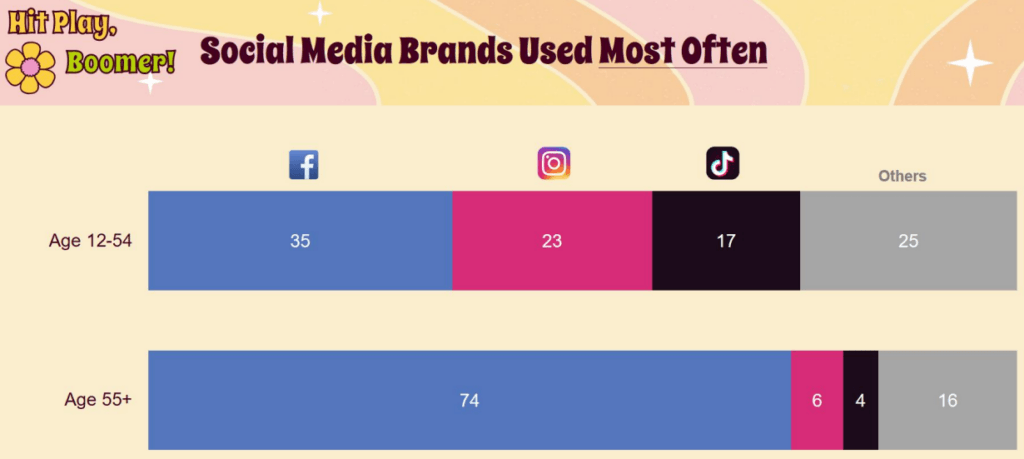 It's worth visiting the Edison Research site to download the data-packed entire deck; go HERE to get it.
---