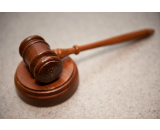 BMI submitted a statement to the Department of Justice earlier this week with its proposed changes to the consent decree rules that govern collective licensing. The group's main argument was that music publishers should be allowed to chose which rights they negotiate through the performing rights organizations. Such a change would allow publishers to set rates for their digital rights directly with streaming services. ASCAP echoed BMI's sentiments in its own filing on Thursday.
BMI and ASCAP are lobbying hard for separating digital rights because the publishers have threatened to leave the collective entirely if they cannot control those deals separately. Sony/ATV has been the most vocal recently about potentially breaking from the group. Losing Sony and Universal would decimate the PROs' businesses, which BMI actually argued in its submission would actually decrease the need for regulation since it would not have as much power over the market.
Neither Sony/ATV nor Universal Music Publishing have made their submissions to the DoJ about its review, but the consent decrees did get a statement of support from the National Association of Broadcasters. The group also filed comments with the DoJ that said changing consent decrees would give BMI and ASCAP an unfair advantage over the market. "If allowed to circumvent the Consent Decrees, those publishers will abuse their market power to extract supra-competitive rates, terms, and conditions from the blanket licensees they choose to target," it said.