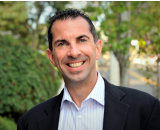 Townsquare Media CEO (and RAIN keynoter) Bill Wilson was named First Vice Chair of the Radio Board in the National Association of Broadcasters (NAB). In the directorial structure of that organization, three groups oversee everything: the NAB Executive Committee, NAB Radio Board, and NAB Television Board.
David Santrella, who is on the Executive Committee, also serves as Chair of the Radio Board.
Wilson, who keynoted RAIN summit Dallas last year alongside the NAB/RAB Radio Show, has a long career with touch points in music, internet brands, and radio. He joined Townsquare in 2010 as EVP, coming from AOL where he was President of AOL Media. In that former role Wilson oversaw about 60 public-facing media brands including the suite of AOL structures such as Entertainment, Finance, and AOL.com itself. In that role he was at the forefront of digital advertising, and oversaw the development of music-specific media properties using the newly-acquired Blogsmith publishing platform.
He became co-CEO of Townsquare Media in 2017, and sole CEO in 2019.
The NAB/RAB have recently announced that the 2020 Radio Show will be a virtual on-screen event, details to be forthcoming.