BIA/Kelsey released its annual report of radio station revenue, showing the top ten revenue-generating stations. KIIS FM in L.A. displaced news station WTOP in Washington, D.C. at the top spot. WTOP took #2.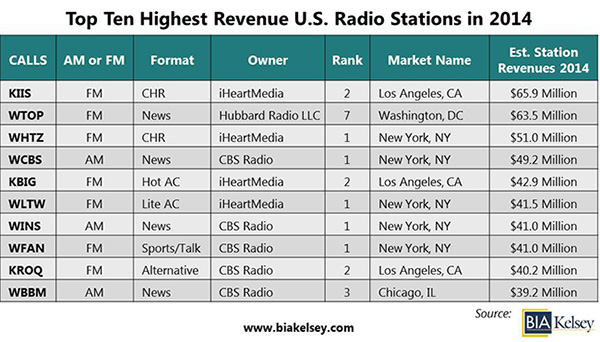 Digital revenue, which includes webcast advertising, website display, and other forms of new-media revenue, represented 4.3% of overall 2014 earnings ($638-million).
We spoke to Dr. Mark Fratrik, Vice President and Chief Economist. He shared BIA/Kelsey's digital revenue forecast out to 2019. That projection sees accelerating growth as a percentage of total radio station revenue across the board. This year is predicted to yield 4.7% or overall, and that number rises to 6.2% digital in 2019.
Fratrik cautioned that the broad numbers can be misleading. "They include radio broadcasters who don't do much of anything online. More aggressive radio groups are getting double-digital percentages in digital revenue."
Dr. Fratrik has been beating the digital drum for a few years, and his warning to stubborn stations is stark this year: "If you're not involved in online digital, then this is not a growing medium for you," he said. Radio operators should think of themselves as more than just radio, and look to non-traditional revenue sources, according to Fratrik.
"The decline of over-the-air revenue is made up for in digital, and that is a real clarion call for the industry."