Online therapy service BetterHelp topped Magellan AI's monthly list of top advertisers of June. BetterHelp was the biggest spender the previous two months as well.
There is a similar stability in podcast ad-spend ranking that exists in podcast show and network rankers — not much change in the top ranks. Below we've compared the Magellan lists for April, May, and June: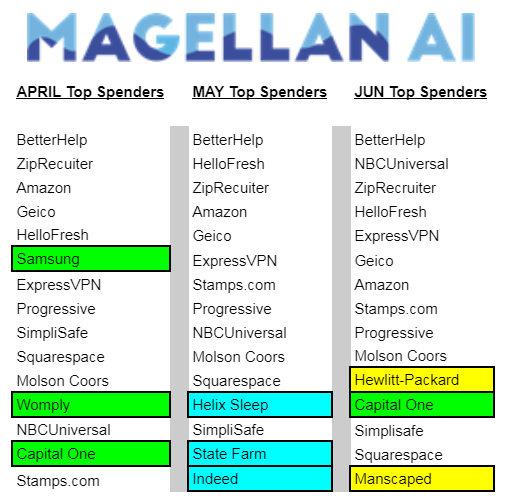 The green highlights indicate companies that appeared in the April and June lists, but not May. Blue is unique to May; yellow is unique to June. All the un-highlighted companies appear in the top 15 spenders of all three months.
Magellan has something new in this month's report: a 12-month animated visualization of top podcast spenders — a must-see, it is HERE. BetterHelp reigns with impressive dominance, presumably taking advantage of mental well-being needs during Covid.
.