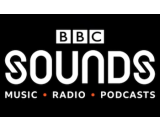 BBC Sounds, the listening app launched in June, 2018, released listening growth metrics for 2021. Overall listening was up 8% from last year, while podcast listening grew 25%. Altogether, 1.3-billion plays were initiated in the app.
The organization's announcement identifies three main content types: On-demand radio programs, music, and podcasting.
Based on January-November measurement, the most popular podcasts have been:
Newscast
You're Dead To Me
Fortunately… with Fi and Jane
That Peter Crouch Podcast
Americast
Grounded with Louis Theroux
Just One Thing with Michael Mosley
Nuremberg: The Trial of the Nazi War Criminals
The Battersea Poltergeist
Match of the Day: Top 10
Jonathan Wall, Controller of BBC Sounds, said: "Listening to podcasts and music mixes has really grown again this year, with new music and podcast tabs on BBC Sounds making it even easier for listeners to find audio to suit what they're looking for. It's great to see our firm favourites and brilliant big name talent continuing to delight the audience, as well as new titles prove to be really popular this year."
.