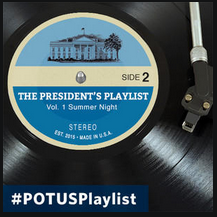 The highest office in the U.S. indirectly endorses streaming and is a good "get" for Spotify, which announced today that the White House has placed to summer playlists on the service, purportedly hand-built by the President.
The President's Summer Playlist: Day and The President's Summer Playlist: Night is each a 20-song list. The President (or surrogate) has diplomatic musical taste that ranges across decades, categories, moods, and ethnicities. The Day list leads with The Temptations, dives into Dylan's "Tombstone Blues," touches down on the blues classic "Wang Dang Doodle" (Howlin' Wolf's version), hits on the Stones, Aretha Franklin, Coldplay, and Justin Timberlake on its way to closing with "La Salsa La Traiga Yo" by Sonora Carruseles.
During long summer nights Obama wants us to know that his music discrimination dwells in more rarefied air, starting with Coltrane's classic "Favorite Things." Al Green, Ray Charles, Mary J. Blige, Otis Redding, Cassandra Wilson, Billie Holiday, Erykah Badu — the President can rock the slow groove.
Registered Spotify users can listen to the Day playlist here, and the Night playlist here.