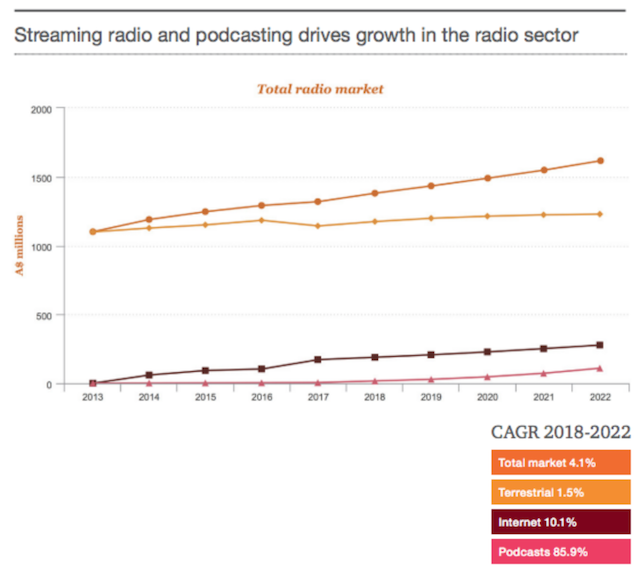 PwC has yet more insights on the podcast industry, this time focused on Australia. The PwC Australian Entertainment and Media Outlook projected that the nation could see an 85.9% revenue increase over the next five years. The report also expected that the monthly listening audience for podcasts would more than double to reach 8.9 million by 2022.
The report found that Internet revenue — which includes streaming, on-demand, and digital audio — would rise by 10.1% in the next five years. Terrestrial radio is pegged for growth of just 1.5%. Overall, the radio/audio sector is expected to see a compound annual growth rate of 4.1%.
"The advent of voice-activated smart speakers, especially in the home, will also boost music-listening opportunities for Australian artists and labels," said Megan Brownlow, PwC Australia's leader for the entertainment and media industry. Brownlow will present the full report on Thursday at the Mumbrella360 conference.
Yesterday, PwC and the IAB released a massive forecast for the U.S. podcast industry. The sector was anticipated to reach revenue of $659 million by 2020.