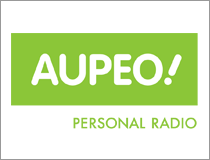 AUPEO!, the Berlin-based in-vehicle infotainment service, has obtained placement in new Ford vehicles featuring the SYNC digital dashboard controlled with AppLink, the company announced at Mobile World Congress this week in Barcelona. AUPEO! is a front-facing listening service anyone can listen to (here). It's main business is providing online music service to digital device manufacturers, including automakers. AUPEO! was founded in 2008.
Ford's SYNC dashboard is a plug-and-play style of connection, wherein the driver provides the Internet connection (usually via a smartphone) and the apps. Ford's AppLink software is itself an app, which connects to the SYNC dashboard, enabling hands-off-the-phone control of the smartphone apps, which appear on the dashboard screen. Music apps which are AppLink-enabled can be controlled this way. It all seems a bit comples, but it's easy for music apps to include AppLink functionality — much easier than developing a new app version for an automaker which factory-installs the app into its dashboards. Over 1.5-million SYNC/AppLink cars are rolling around North America.
SYNC and AppLink are newer in Europe. AUPEO!'s deal applies to the EcoSport SUV. Early buyers will be eligible for a free 12-month premium AUPEO! membership.