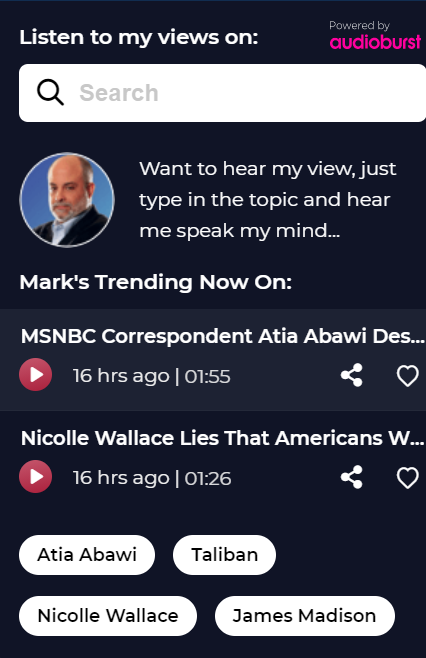 Audio search and discovery platform Audioburst has introduced a podcast player called Finder, which offers search and discovery of keywords and topics within a podcast episode. As a stand-alone widget, Finder also can search-and-discover keywords or topics across broad swaths of content — for example, a conference whose sessions were recorded. That use case is put to the test on the Podcast Movement site (see it HERE).
We were sent another example, where Finder is applied to a podcast — The Mark Levin Show. (See it HERE.) The user proposition is the same — type in a topic or keyword, and the player displays a list of "bursts." Bursts are what Audioburst calls audio search results, and they comprise the keyword or topic, surrounded by enough audio before and after to make a comprehensible listening experience. (We found the Mark Levin Show example preferable in the phone to the desktop, only because of the intrusion of desktop banner ads.)
When more than one result is delivered, the experience becomes a playlist of relevant spoken-word content. That's how it works on the Audioburst website, too, as you can see on a curated page where you can also enter search terms for the company's entire library. But Audioburst is more than a public-facing search engine at large; it is a B2B service company whose tech is targeted to audio creators generally. The company told RAIN News that radio-specific products are coming soon. Existing clients include Samsung, Microsoft, Dentsu, Blubrry, and many others.
"The Audioburst Finder brings us one step closer to solving the challenge of audio discovery," said Amir Hirsh, Co-founder and CEO of Audioburst. "It opens a window through which listeners can search and sample creators' content before subscribing. Additionally, as brands build out audio strategies and produce high-quality content, Audioburst Finder gives them a new way to repurpose the content and engage consumers right from their corporate website."
.