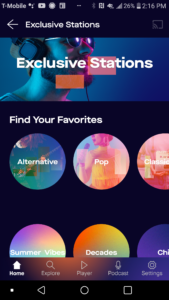 The Audacy app, the streaming component of the Audacy corporation which operates the second-largest group of commercial radio stations in the U.S., has built a large collection of new streaming stations — 350 of them, all human-curated. The creators are described as "iconic Audacy brands, on-air personalities and influencers from across Audacy's nationwide portfolio." Audacy says the project represents "millions of hours of human music compilation and audio production experience."
On the back-end infrastructure side, the project is a "Powered by Napster" service.
Looking in the app, we see genre categories and activity stations like Workout and Cookout. We clicked into Classic Rock, and tried to listen to The Canyon (it was the only choice in this category). We say "tried" because no matter how we tapped, nothing happened. We tried the Jazz/Blues category, again found a single station, and again found the app unresponsive to our pleading touch. The Workout group did not display any stations, so our disappointment continued even as we lost our fitness.   After consulting with the Audacy product team, an app update solved our previous issue.
We tried  several Featured Stations and were pleased with the streaming performance and content. The stations we heard were briefly intro'd by the station creator. Audacy allows six skips — each skip requires an hour to refrshe, so if a contented  listener skips less than once per 10 minutes, the skipping feature seems unlimited. (And honestly, anyone skipping more than that is probably listening to the wrong station.
So, rollout problems — every company has experienced them, and we will continue trying.
The thrust of this initiative seems to balance the traditional strengths of radio — personality, ease-of-use, locality — with the broader range and hip mojo of streaming music. iHeartRadio has exercised that calculus for years, and Audacy's fresh approach is welcome. We look forward to hearing it. We're glad to be listening to it.
.