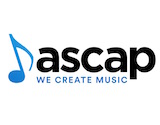 ASCAP announced that it recorded record high distributions and revenues in 2019. The performing rights organization generated $1.274 billion in 2019 revenue, up from $1.227 billion the previous year. Distributions also surpassed $1 billion for the third consecutive year. In 2019, ASCAP distributions totaled $1.184 billion.
The group's domestic revenue was $945 million and its U.S. distributions totaled $869 million. ASCAP said that U.S. results were driven by a 16% increase in audio streaming. Revenue outside the U.S. for the year was $329 million, with distributions of $315 million.
"We are pleased to report ASCAP's strong financial results for 2019, but we know that our members are concerned about the economic impact of the COVID-19 crisis on their royalties in 2020 and beyond," ASCAP CEO Elizabeth Matthews said. "Fortunately, ASCAP closed a record number of multi-year licensing deals in 2019 and instituted immediate operational changes and expense cuts in early March 2020. As a result of these efforts, while collection efforts are increasingly challenging, our first quarter 2020 royalty distributions have proven to be among our highest ever. Hopefully, this distribution will provide a cushion to members to help weather the storm of COVID-19."
ASCAP said last month that it would delay its April payments due to the cascading effects of the COVID-19 pandemic on music and other industries.