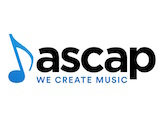 ASCAP announced that it collected revenue of $1.059 billion in 2016, breaking the billion-dollar revenue mark for a third year. The performing rights organization distributed more than $918 million to its members over the course of the year, up 5.6% over the year before.
Revenue from ASCAP's licensing efforts in the U.S. increased 6% to $759 million in 2016. That performance was helped by a 41% increase to revenue from audio streaming services. The company's foreign revenue reached $300 million.
"In 2016 alone, we processed over one trillion performances, welcomed 40,000 new members, and secured a steady stream of future royalties for our members by closing multi-year deals across all major platforms, including satellite and terrestrial radio," ASCAP CEO Elizabeth Matthews said.
"ASCAP's strong financial results matter for each and every songwriter, composer and music publisher who makes a living from our creative work, from those just starting out to those whose music is beloved around the world," added ASCAP President and Chairman Paul Williams. "I am also incredibly proud that ASCAP continues to lead the fight for much-needed changes to U.S. music licensing regulations that are grossly unfair to songwriters and copyright owners."