When was the last time you saw 20 influential thought-leaders in a dynamic and fascinating industry gathering, and got back to your office after lunch? If that seems implausible, you haven't been to a RAIN half-day conference on digital audio advertising.
On Wednesday, April 12, the Chicago House of Blues will provide the stage (plus coffee and snacks) for the RAIN Digital Audio Advertising Summit, a four-hour knowledge and networking event with 19 companies represented onstage and over 60 companies in the audience. Attendees will experience deep dives into programmatic audio advertising, the podcast opportunity for marketers, the cutting edge of creative audio branding, the newest audience research, and special appearances by Kurt Hanson (opening address) and Nick Quah (founder and publisher of Hot Pod).
Scroll down to see the complete agenda. And register to attend today. In keeping with RAIN tradition, the ticket price is affordable, and the content quality is unbeatable. Join us in Chicago!
---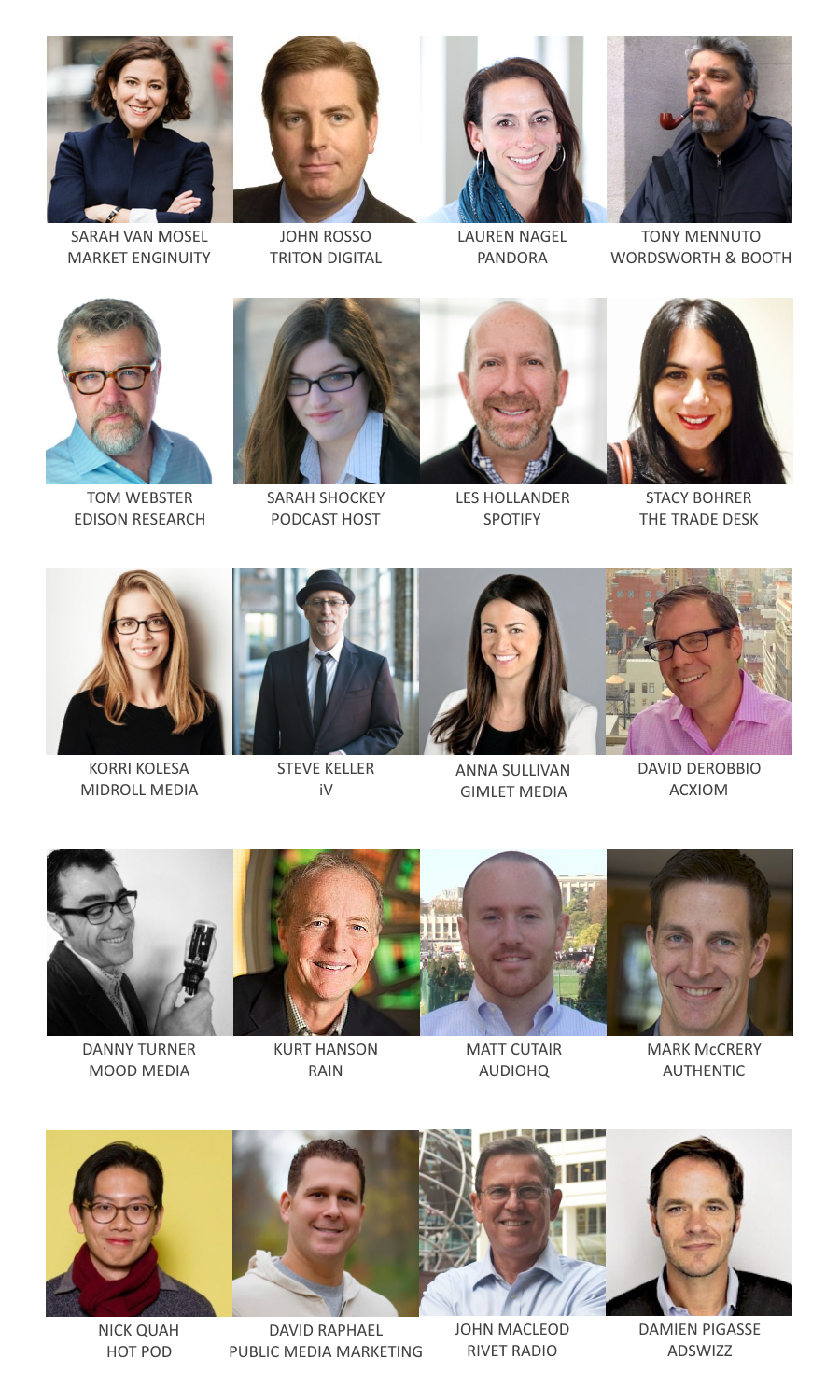 9:00 – 9:15 WELCOME
RAIN President Brad Hill and RAIN Founder Kurt Hanson
9:15 – 9:30 OPENING ADDRESS
Kurt Hanson (Founder and Publisher, RAIN News / Founder and CEO, AccuRadio)
9:30 – 10:10 PANEL: Audio That Resonates; The Art and Science of Creative Messaging
Effective audio creative is both art and science. Most of all, there is potential for distinctive advertising that defines a campaign and evokes an emotional connection with audiences. What makes great audio marketing, and how is it created? This panel spotlights leaders of innovation and creativity in audio soundscapes for brands.
MODERATOR: Lauren Nagel (Group Creative Director, Pandora Media)
Tony Mennuto (President, Wordsworth & Booth at Horizon Media)
Steve Keller (CEO/Strategist, iV)
Danny Turner (Global Senior Vice President Programming & Production, Mood Media)
=========
———— NETWORKING BREAK ————
=========
10:30 – 10:50 CONVERSATION: A Deeper Dive in the Infinite Dial
A moderated deep dive with the Infinite Dial Webinar hosts, exploring the context, causes, and meaning of key 2017 metrics. The Infinite Dial is the most influential consumer survey of digital audio reach and American listening habits.
MODERATOR: Brad Hill (President, RAIN)
Tom Webster (Vice President, Edison Research)
John Rosso (President, Market Development, Triton Digital)
10:50 – 11:30 PANEL: Programmatic Audio in a Data-Driven World — Making the Most of the Moment
Audio buying is accelerating and gaining prominence in overall media budgets. We are living in an audio renaissance, as people are consuming content across a variety of devices throughout the day, many without a screen. This constant connection allows us to gather unique data on what people are doing, where they are, and even how they feel. Learn how data is fueling the rise of programmatic audio, and how industry leaders are making the most of the moment-based advertising.
MODERATOR: Les Hollander (Global Head of Audio Monetization, Spotify)
Damien Pigasse (Vice President, Demand, AdsWizz)
Matt Cutair (CEO, AudioHQ)
David DeRobbio (Vice President, Global Partnership Development, Acxiom)
Stacy Bohrer (Regional Vice President, Business Development, The Trade Desk)
=========
———— NETWORKING BREAK ————
=========
11:50 – 12:10 FIRESIDE CHAT: Podcast Advertising, Sponsorship, and Scale
MODERATOR: Nick Quah (Founder & Publisher, Hot Pod)
David Raphael (President, Public Media Marketing)
12:10 – 12:50 PANEL: Podcasting 2017: What We Know and Where It's Going
Podcast awareness and listening are growing, according to Edison Research, and 85% of consumers listen to most or all of their shows. Ad technology is entering the space, and high-quality programs are developed at an amazing pace. At the same time, discovery and measurement remain challenges. Is it a golden age of podcasting, or is the best yet to come? Four of the industry's key influencers discuss the podcasting marketplace in 2017.
MODERATOR: John MacLeod (Founder & CEO, Rivet Radio)
Sarah van Mosel (Chief Podcast Sales and Strategy Officer, Market Enginuity)
Korri Kolesa (Head of Sales, Midroll Media)
Sarah Shockey (Co-host, "Marty & Sarah Love Wrestling")
Anna Sullivan (VP, Head of Sales Gimlet Media)
Mark McCrery (Founder & CEO, Authentic/Podtrac)