In a new and intriguing Latino Podcast (non) Listener Report from Edison Research (sponsored by ADONDE Media, LWC Studios, Libsyn, PRX, Simplecast, SONORO, and SCM Media), one key survey question is — Why the heck don't you listen? (That's a paraphrase, not a quote.)
Intriguingly, the results can be interpreted as: Podcasts are too long. In fact, that exact answer was proposed in the survey, and 48% of respondents agreed with it, as a reason for not listenings. Adding to that idea, another suggested answer was "You don't have enough time to listen to podcasts." In our mind, the two reasons are related, though not the same.
Here's the chart: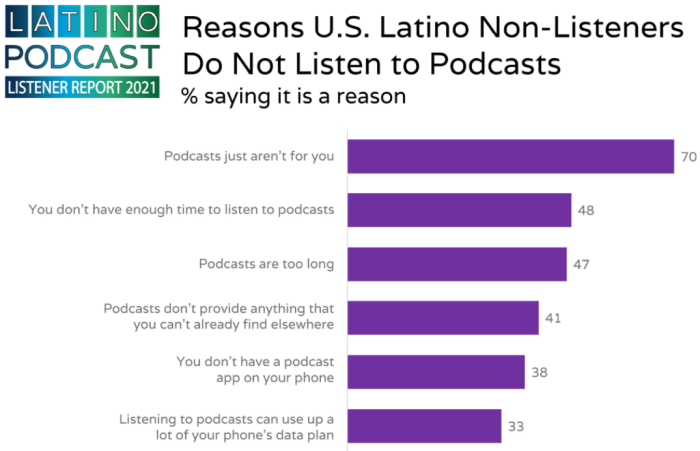 Those two reasons represent two distinct questions, so we must assume overlap rather than adding together the two percentages. Still, assuming some amount of unique responses to each question, we presume that 50+% of respondents think podcasts are too long, and that's why they don't listen.
Two other reasons jump out as worth highlighting> The first is the ease-of-use question that stops people from listening to their first podcast. Two of the responses offered by the study are related to that: "You don't really know how to find a podcast" and "You are not so sure how to listen to a podcast." Here's the graphic for them: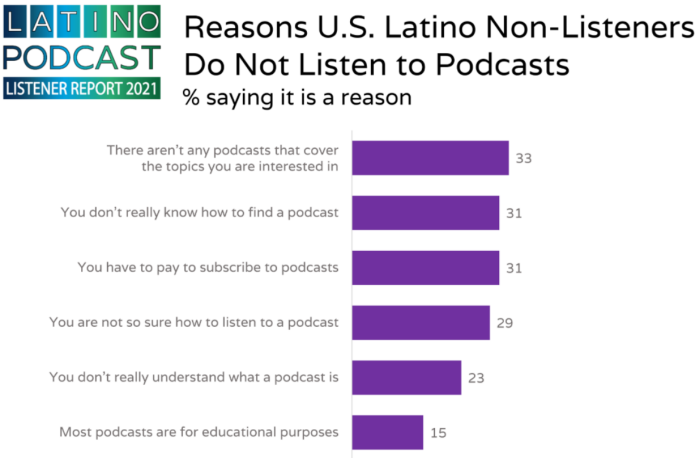 We might presume from this that between 31% and 29% of Latino non-listeners are put off by the inherent difficulty of consuming the product. It is classic ease-of-use … or in the spirit of this study, non-ease-of-use. And that is without considering another offered response: "You don't really understand what a podcast is."
Driving the point home, later in the report we see that 33% of respondents say they'd be interested in podcasts if "Podcasts were easier to discover." Discoverability, while not exactly the same as ease-of-use, lies behind the same stumbling block — the podcast category is unfriendly to newcomers.
There are age and gender break-outs too. Fifty-six percent of non listeners are women; 58% of listeners are men. And the non-listening population is 30% 55 years and older; only 8% of listeners are in that group.
.