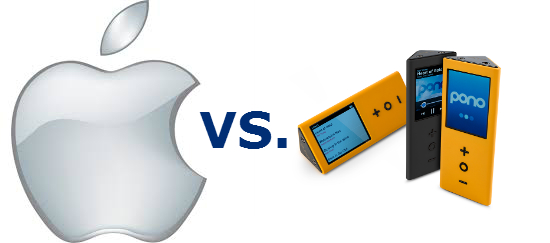 Apple has non-publicly introduced high-def (also known as high-rez or the tradition high-fidelity) audio into the new iOS 8 mobile operating system which will be launched later this year. The high-def audio output would come through the lightning port at the bottom of iPhones, iPods, and iPads — that the port which also charges the device.
The addition of high-quality audio (also known as "lossless" audio — so many ways to say the same thing!) was not announced at this week's worldwide Developer Conference keynote speech, where Apple historically promotes its latest innovations. But the conference (also known as WWDC; we're all about finding many ways to say things) proceeds after the keynote, when software developers get a complete picture of the operating system attributes into which they can program their mobile apps.
High-rez audio represents a niche consumer market, but a broad trend. Leading the charge with the most highly publicized new product is Neil Young's Pono Music, which launched on the wings of a spectacular Kickstarter campaign that raised over six-million dollars. Many online music services offer high-rez listening options; Rdio recently jumped on that train by announcing a total library upgrade to higher fidelity.
Pono Music is a device-plus-music ecosystem that provides a catalog of lossless albums and tracks, and a dedicated player for listening. Pono is endorsed by many of the celebrity musicians who reside in Neil Young's Rolodex. The product challenge, in our view, is convincing users to carry another mobile device for high-rez listening — one that accesses an relatively small catalog, and whose experience will inevitably be somewhat degraded by environmental noise that comes with most mobile listening.
Apple solves the second-device problem by integrating a high-rez audio path into all existing mobiles devices (5th generation or later) running iOS 8 (when it is available).
There is also an interesting tie-in with Beats Electronics, which Apple agreed to acquire last week. Most of the attention around that deal focuses on Beats Music, which vaults Apple into the on-demand streaming business. But Beats is an established and profitable builder of listening gear, especially headphones. there's no predicting what Apple will do with its new assets, but it does seem like the pieces are in place to challenge Pono's ecosystem model with Apple's monumental ecosystem footprint.