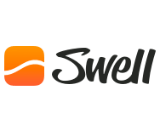 Apple is purchasing Swell in a deal worth $30 million, according to unnamed sources. The app offers personalized streams of podcasts and talk radio programs. It has raised $7.2 million as a startup project but this valuation implies that the tool has a lot more to offer Apple as it overhauls its music services.
Re/code reported that Swell had a hard time attracting users despite its strong user interface. For those fans who discovered the tool, though, Swell has a high level of engagement and a great listening experience in cars. On the other hand, Apple's in-house app for podcasts has abysmal ratings on the App Store, but is still one of the top Entertainment downloads in the U.S.
Purchasing Swell could combine the best of what both parties can do into a better experience for Apple's listeners. The Beats acquisition is bringing in new talent on the music side, and although this is a smaller buy, Swell's expertise could be an excellent counterpoint. Where Beats brings in creativity and industry connections, Swell has the technical track record to improve the podcast side of the streaming experience. Plus, the recent project in car connectivity from the Cupertino crew might mean extra applications for Swell's know-how in creating vehicle-friendly UI.
The Swell founding team did not immediately reply to our request for comment.