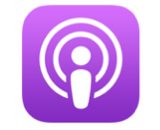 Apple has introduced two new sharing and personalization features for its podcast listening platform. Both target personalized discovery.
They are, as described by the company:
Shared with You: Apple Podcasts
People trust recommendations from friends and family, which is why word of mouth is among the most effective ways for listeners to find new shows they love and for creators to grow their audiences. Shared with You makes this even more convenient. Now episodes, shows, and channels from Apple Podcasts sent over Messages automatically appear in a new Shared with You section* in Listen Now. When listeners navigate to the shared episode, show, or channel, a button at the top indicates who shared it with them. They can tap that button from the corresponding page — or section in Listen Now — to jump right back to the moment it was shared in Messages and send a Tapback or reply.
Personalized Recommendations in Listen Now
Listeners** will also discover additional personalized recommendations through new sections in Listen Now to help them find their next favorite show. Sections titled "If You Like '[Show Name]'" recommend additional shows listeners of that show are engaging with. For example, a "If you like 'Back Issue'" section might recommend popular shows in the Society & Culture category, more shows with a discussion format or that focus on pop culture, additional shows from Pineapple Street Studios, and other shows listeners of Back Issue are also following.
Interestingly, two of Apple's platforms will also cross categories and introduce shows which have been cross-referenced by show creators within Apple's taxonomy. As an example, in iPadOS 15 and tvOS 15, listeners who enjoy shows categorized by their creators under Arts will see new sections with suggestions for shows categorized under Books, Design, and Food.
.