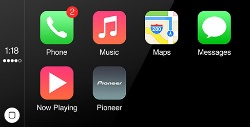 Apple CarPlay is one of the most interesting connected-car initiatives, and will certainly appeal to well-heeled iPhone users when it rolls onto the road in selected Ferrari car models later this year. When CarPlay was announced, it looked like a long wait for anyone not in the sports-car market, or not in the market for any car — considering that the average age of cars on U.S. roads is 11.4 years.
Now, though, Pioneer plans to offer an aftermarket solution to existing cars, via updates to its AV Receiver models. The update is firmware, which means software downloaded into the unit and permanently installed. It's really an operating system upgrade to installed Pioneer audio units, that includes Apple's CarPlay software.
The purpose of CarPlay is to enable drivers to operate their smartphones without touching them. Controls are transferred to the head unit of the car, and some degree of Siri voice activation is in the program. When it comes to audio, selected services (it's not an open platform) can stream music on command. Obviously, iTunes Radio is one of those services.