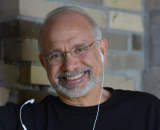 Dimitri Vassilaros was a talk host on AM station KDKA, and his resume as broadcaster and journalist includes stints with CBS, Clear Channel/iHeart, Gannett, Tribune-Review, and Hearst. He has a new program in his sights, and has turned to Kickstarter to fund what he says will be both an online radio production, and a podcast.
Called Don't Spy On Me, the germinating show is about privacy in the digital era, and promises to be a "market disruptor of the surveillance state." Vassilaros' Kickstarter goal is $2,500 to get the project off the ground; as of this post he has attracted 22 backers for about $1,500, with 20 days to go. (Kickstarter requires the entire goal to be met within the campaign timeline.) The plan is to feature listener voices in the show, which will contain a real-time aspect and podcast distribution.
"The future looks Orwellian, but if enough people act now by backing this Kickstarter campaign, tomorrow can be wonderful," the crowdfunding page asserts. "I'm committed to giving voice to people like us who care about our privacy, so we can take back our liberties, our rights, and our republic."
Kickstarter as well as other single-project crowdfunding platforms, and patronage systems like Patreon and Recurrency, offer creators an opportunity to raise money for startup or ongoing project expenses, and in recent years have increasingly been used for podcast projects. Backers of Don't Spy On Me receive bumper stickers, t-shirts, and other branded merchandise depending on the level of support.
Vassilaros has been a critic of traditional radio in the digital age, once placing this remark in Tom Taylor's NOW newsletter, "The public, and therefore the FCC, would care about saving AM radio, if the owners cared about their stations. Where is the exciting, compelling, creative programming on AM radio?"
Vassilaros gave RAIN News a thornier indictment of radio: "AM stations are dying, much of what's left in radio is soulless, and the broadcast business model doesn't work online." Vassilaros told us that his show will not contain advertisements.