adStream is a journal of ad-stalking and interesting commercial sightings in streaming audio services.
---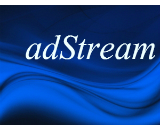 Streaming audio advertising is primarily audio. Too obvious to mention? Not when you consider all the graphic elements that can go with the audio.
In its recently released Digital Audio Ad Serving Template (DAAST), the Interactive Advertising Bureau (IAB) recognizes visual accompaniments of audio ads as "companion ads." In most cases, they are banners, often interactive, allowing the listener to click or touch for pursue the marketing message. That only works, of course, when the listener has eyes on the screen, which is often not the case.
Video companions are different, inasmuch as they contain the audio. the audio is obviously the important part, especially for eyes-off listeners. We've encountered many video presentations of audio marketing in our relentless ad-stalking. We've noted video pre-rolls that serve the marketing message with audio, even if you don't put eyes on the video.
Recently we encountered a beautifully produced Stella Artois commercial in a Slacker Radio stream that told a story best appreciated by watching, not just listening:
The Stella Artois production is a holiday commercial that began appearing recently. A longer-running video campaign that we've seen in more than one music service belongs to IBM Cloud Services. Here is one example, where the audio track does not convey a full message:
Interestingly, the voice-over does not mention IBM at all, so the central branding message must be seen, not heard. The sound of the ad (thwacking tennis balls) got our attention, and motivated us to watch.
Leave a comment! Do video ads in audio streams get your attention?