adStream is a journal of ad-stalking and interesting commercial sightings in online audio services.
---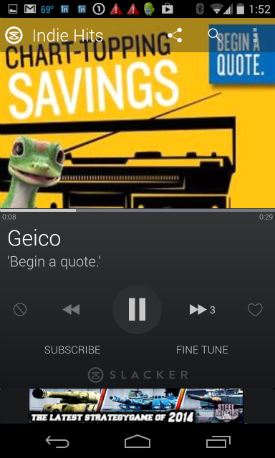 It had been a while since we had turned our ad-stalking attention to Slacker Radio. We wanted to see whether Slacker deployed a similar full-court press as Pandora, which frequently covers our phone screen with a graphic ad that must be manually closed to see what's playing.
In our observation, Slacker puts two ad units into regular rotation during a listening session: a miniature leaderboard at the bottom, and a banner display up top to accompany audio announcements. The rhythm is swift, with the bottom unit changing with nearly every song change or song skip. (We love testing how ads respond to skips.) In a few cases the identical ad came up again after the change, which catches your eye with a spinning movement.
A recurring Geico announcement, with the accompanying banner, presented a problem. We wanted to check out the call to action (adStream is the advertiser's best friend!), which was positioned partially under Slacker's translucent navigation menu. We accidentally hit a nav button, quickly tried to remedy with some finger stabs, and got tossed around the service like a bobbing cork. By the time we recovered, Geico was gone, along with our dream of saving a percentage within a certain time period.
If a programmatic algorithm is driving the bottom unit, our slacker test account is somehow identified as a rampant online game-player. Or, ads for Steel Avengers enjoy run-of-service placement. either way, we saw those mini-banners twirling into place about half the time, sharing the space with People magazine and a "Cash for Junk Cars" service which gave us a severe case of identity crisis. The game ads linked to the app store download page.
The upshot of ad-watching in Slacker, across contrasting music playlists, is a feeling of steady commercialism that gets your attention when looking at the screen, without being too intrusive. The audio spots occurred every six songs when skipping (slacker enforces a six-song skip limit per station).