adStream is a journal of ad-stalking and interesting commercial sightings in online audio services.
---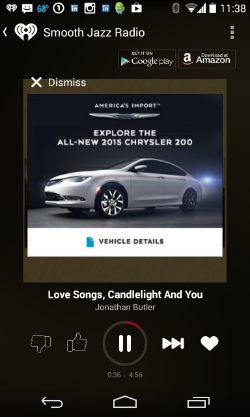 Last week we wrote about pre-roll ads, their benefits, with an example from Live365. This week we were on the prowl for streaming music ads that are invoked by skipping songs in an online radio station.
We turned to iHeartRadio for examples, and were quickly rewarded. Listening to multiple custom stations (Smooth Jazz, Elton John, and others), we skipped up a storm — not that we didn't like the music. We did. We sacrificed the integrity of the account's listening history in a search for ads.
We found a cadence during a skipping test. Every fourth skip, an ad banner appeared. We saw Chrysler and T-Mobile ads. (T-Mobile is everywhere these days in music services, promoting its Music Freedom program.) The Chrysler ads included a call to action which led to a browser landing page where you could shop for, build, and price new vehicles. We liked how the playlist music continued as we engaged with the ad.
We also noted that the ad persisted through the next skip. After that, the six-song skip limit (typical in ad-supported online radio, though there are exceptions) was reached for that station and we fired up a new one.
"Skip ads" (as we call them) make perfect sense. While music listening can be mostly an eyes-off experience, more conducive to effective audio ads than banners, you've got to put your eyes and fingers on the screen to skip. That is the perfect moment to call for brand engagement.