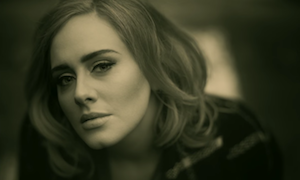 Popular British songstress Adele may be the latest major artist to be "pulling a Taylor." Unnamed sources with knowledge of her upcoming release told The New York Times that the album "25" would not get a launch on streaming services. Adele's rep declined to comment on the story. The album is slated for release tomorrow.
The Verge has a slightly different take on the situation. It reported that Adele's camp was willing to put the album on Spotify, but only if it was restricted to paying listeners. That information was credited to the usual "source with knowledge of the situation," but in this case, Spotify has stepped in to deny the claim. It issued a statement to the publication, stating that "It is categorically untrue that anyone has asked us to feature Adele's new album on premium only."
Even before it officially hits shelves, "25" is shaping up to be one of the year's biggest releases. "Hello," the first single from the new project, has already broken records, with more than 400 million on YouTube and more than 1.1 million copies sold in its first week.
If the album does in fact pass over streaming platforms, it would be the third big release for the streaming industry to lose in two years. Taylor Swift's big "1989" release in 2014 sparked her to take her entire catalog off freemium streaming platforms. When Beyonce dropped her surprise album in 2013, it was an exclusive to iTunes. Spotify and other freemium services could make the policy switch and allow windowed content. It would likely improve relations with artists, but with its audience ratio still skewed heavily toward free listeners, such a move could wind up proving very unpopular.