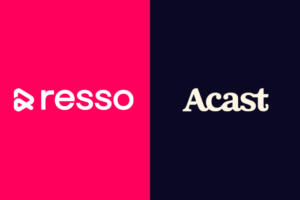 In a seemingly win-win scenario, global podcast company Acast has signed a distribution deal with Resso, a streaming music service operating in Brazil, India and Indonesia. The arrangement expands Acast's addressable audience, and the 47,000-show podcast catalog gives Resso an entrance to podcasting. That model follows the footsteps of Spotify, Pandora, and Amazon Music.
Resso might be unfamiliar with English-speaking audiences, but the service is owned by ByteDance, creator of TikTok, and features over 50-million music tracks. The service launched in March 2020, and is considered a challenger to Spotify in its operating regions. Resso is sometimes characterized as TikTok's sister music app.
Ross Adams, Acast's CEO, said: "Bringing Acast's network of podcasts to Resso will give a huge boost to our podcasters — giving them exposure to millions of new listeners, helping them to grow their audience, and making their shows even more attractive to advertisers. Resso also has a revolutionary interface and social engagement features, and we're looking forward to seeing how that benefits our creators, too."
Alberto Lopez, Music Licensing & Partnerships, Resso, comments: "Following our tremendous growth with music, podcasts are a natural next step for Resso. Our partnership with Acast is crucial as we continue to provide listeners with a range of content across genres and formats."
.