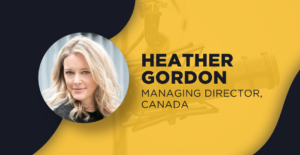 Acast announces today that it is launching its podcast advertising technology and marketplace in Canada. Heather Gordon, formerly Digital Sales Director at CBC/Radio-Canada, is  taking the role of Managing Director, Canada for Acast. Gordon is also set to speak at RAIN Digital Canada this week, Thursday Sep 24, in a Zoom extension of RAIN's annual Canadian summit. (Info HERE.)
Acast increases  its global reach with this move; Previous expansions include Mexico, Ireland, and South Asia. Canada's podcast metrics rival those in the U.S. — although Canada is a smaller market, it has high podcast penetration. In both regions, 37% of respondents in the The Infinite Dial 2020 (Edison Research and Triton Digital) said they listen to podcasts.
Acast has built momentum into the Canadian launch with a slate of partnerships. They include the CBC, Corus, Entertainment One (also known as eOne), and Terry O'Reilly's Apostrophe Podcast Company. Acast has also partnered with major indie creators from the region to host and distribute their shows, including Canadian True Crime, #MOMTRUTHS, and Let's Talk About Myths, Baby!. The company claims 11-million monthly listens from Canada even before this official presence.
This from Heather Gordon: "The opportunity for Canadian podcasters and advertisers is ripe," said Gordon. "I fell in love with podcasts because of the intimacy they offer, the portability of the medium, and their ability to amplify rich, diverse stories from across the world. Acast, with its commitment to creators and its industry-leading offering for advertisers, is charting out the future of podcasting in Canada and beyond."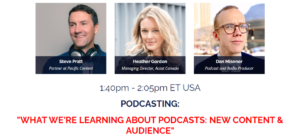 In RAIN Digital Canada, Gordon will speak in a session titled, "What We're Learning About Podcasts: New Content and Audience." She will be joined by Steve Pratt and Dan Misener of Pacific Content.
No-cost registration is open for the event, Thursday Sep 24, starting at 11am. registration is required, and free of charge. GO HERE to register.