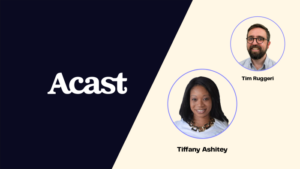 Swedish-based global podcast company Acast has appointed two new directors in its U.S. Creator Network:
Tiffany Ashitey has been appointed US Director of the Creator Network, overseeing domestic podcast acquisition, partnership management, and growth. Ashitey was previously US Director of Partnerships at Acast, leading a team working with podcasters to distribute, optimize, and amplify their shows. She will report to Taylor.
A three-time Webby Award-nominated executive producer, Ashitey has more than a decade of experience leading, executing, and managing projects in audio storytelling, video, and podcast production. She also founded the ESSENCE Podcast Network, the first-ever podcast network in the media brand's 50-year history — created, operated, developed, and produced by women of color.
Tim Ruggeri has been appointed US Director of Development and Studios. He's tasked with seeking out new US podcast talent and managing the acquisition of programming in the market. He will report to Ashitey.
Ruggeri has been with Acast for nearly six years and was one of the company's first employees in the US. He's worked with popular independent creators and major publishers to grow their podcasts and has spearheaded a number of high-profile projects — including Acast's signings of A+E Networks, The Intercept, Everything Iconic with Danny Pellegrino, Dungeons & Daddies, and new series Kasich & Klepper, which features former Ohio governor John Kasich and The Daily Show comedian Jordan Klepper. He has more than a decade of experience in media, communications, and online content creation.
Acast characterizes its U.S.-based creative team as "rapidly expanding. OUr information refers to four other (unnamed) hires. The company hosts over 35,000 shows.