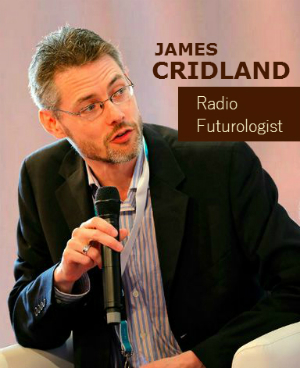 This article was originally posted in Media UK.
---
How do they play different songs on different stations in a live breakfast show?
In many of my speaking engagements, I talk about the opportunities that digital offers radio stations – particularly in terms of brand extensions. One of the examples I give is the Radio Academy Award-winning Absolute Radio, which, apart from the main Absolute Radio service, has a selection of additional stations based on decades: Absolute Radio 60s, 70s, 80s, 90s, and 00s; and Classic Rock.
Since 2008, the breakfast show on all Absolute Radio stations has been a simulcast of the Christian O'Connell Breakfast Show (itself a Radio Academy Award-winner). Absolute have always wished to offer the kind of engagement and entertainment that radio listeners expect at breakfast time, and this simulcast also offers a larger opportunity in terms of breakfast sponsorshop and promotions, one of the largest money-spinners for the station.
But, since 2008, the listeners to – say – Absolute 80s haven't been given 80s music during the breakfast show. Hearing Coldplay's latest or Snow Patrol must have been confusing for an audience who otherwise get the Human League, the Thompson Twins, or the Pet Shop Boys throughout the rest of the day.
This morning, Absolute Radio fixed this. Christian O'Connell continues doing a live breakfast show: but while he plays anything from The Beatles to the Arctic Monkeys on the main station, listeners to the other services will hear the music that's right for them.
Tony Moorey, the stations' Content Director, said in a press release today that "For the first time, we're able to do what we've always wanted to do – combine entertainent from award-winning broadcasters with music that listeners to all seven of our stations love."
Exclusive: here's how it works
This has been a project that's been going for quite some time now in Golden Square. Absolute appear to be going through a phase of calling their internal projects after items of fruit, and this one's called Project Banana – after, of course, the 'split' that happens between stations during the songs. Banana Split – not the Banana Splits, who were a very different thing indeed.
Absolute Radio uses the Genesys playout system from Broadcast Bionics in their studios. This has always been splitting the commercials you hear – eight ways, as it happens, since Absolute Radio itself has a national and a London feed for commercial content.
But now, the station uses the individual playout systems to play different songs on different stations too, keeping Christian's show, but tailoring the music to the tastes of the different stations' listeners. And it's all done automatically.
This is achieved by using some special software written for Golden Square by RCS – the folks behind the music scheduling program G Selector.
This bespoke software:
1. automatically takes the main Absolute Radio music schedule from G Selector
2. extracts the song durations
3. imports the song durations into the digital stations in G Selector
4. creates appropriate song schedules for each digital station, based on the duration.
What's neat is that it uses the rules – such as tempo, mood and artist separation – set in each stations' programme clock. It's clever enough, too, to insert two short songs if it needs to (probably most likely to be the case, one suspects, for Absolute Radio 60s).
Once the schedule is run for each digital stations, and they've been checked by a human being, the schedules get imported into the Genesys machine for each station, and when Christian wants to kick off another song, he just presses the 'next' button as he would normally. All the clever stuff happens behind the scenes.
There's a clever screen in the studio so Christian knows what's playing on each of the seven stations; and I gather he has the capability to end all the songs at the same time with a number of crafty fade options in case – very unusally – he's running a little tight on time. (I'm sure this never happens).
Who might be behind this?
Dan Wright, Absolute's Head of Production, is the man who has led the project. He's worked with broadcast technologist Robbie Harrison, Martyn Lee in the music team, and the breakfast show's senior producer Chris Skinner. The RCS team was led by John Earley, and it's worth pointing out that this integration is quite impressive, since Golden Square don't use RCS's own playout system, Master Control, but a rival product.
Why this is very clever
The station has, before now, run tape-delayed playouts of Frank Skinner on their decade stations: which I'm guessing requires a fair bit of human interaction. This work now means that, if they wanted to, they could simulcast the same great content across all their stations, while changing the music for each.
Additionally, this also paves the way for more interactive services that help redefine radio for a new audience. Travis Baxter, the External Affairs Director for Bauer Media, said to me a few years ago that we make a mistake of thinking about a three-hour radio programme as being one three-hour chunk of content. Commercial radio, he said, excels in producing three-minute pieces of great content.
Bauer Media Group, of which Absolute is a part, is already the UK's number one for digital commercial listening. I've posted in the past that they're the one to watch for digital innovation. Here's yet another reason why.