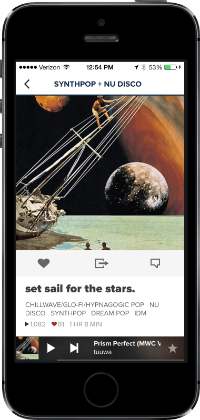 8tracks, the profitable and uniquely differentiated music platform, has reportedly obtained a funding round of $1.28-million. Investor identity is not disclosed in a Series D form filed with the SEC. that form indicates that the total investment, after a second portion closes, will be worth $1.4-million.
8tracks did not respond to our request for comment by posting time.
When RAIN last spoke to 8tracks founder David Porter, he emphasized enhancing the personalization of the listening platform. That would require investment in data science, to understand incoming listeners (especially new ones) and serve them music which fits their taste as early as posible in the user relationship. We speculate that some of the funding will be allocated to that initiative.
8tracks plays music organized by a segment of listeners who upload music, and/or link it from SoundCloud, and build public playlists. Each playlist can be uniquely tagged, creating a unique browsing topography. 8tracks is partly a social platform in which creators build audiences, followers, and reputations as curators.
The ad-supported site has been profitable since mid-2012.