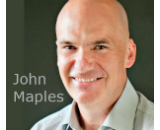 8tracks announced that it has hired Jon Maples into the position of Vice President of Product. Maples led product development at on-demand music service Rhapsody from 2009 through 2013. Since leaving that company, Maples has consulted to the industry, and contributed several thought-leader articles to RAIN News.
An 8tracks spokesperson told RAIN News that music personalization is high on the product development agenda. That mandate, and the hire, jive with a conversation we had with founder and CEO David Porter last summer. "One of our big initiatives is personalization," Porter told said. "For us, that's about how we guide a listener to playlists of highest relevancy."
"8tracks has created a passionate community of music enthusiasts that share and discover music," Jon Maples said "I'm excited to build upon this unique platform to deliver even greater value to listeners, DJs, artists, and advertisers."
In April, 8tracks dramatically expanded the music catalog available to users who build playlists on the platform, thanks to a deal with digital distributor CD Baby.