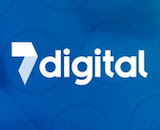 B2B music provider 7digital shared an update on its latest business developments. During the first quarter of 2018, the company secured new contracts with a lifetime value of £2.3 million. These contracts include a China-based social network that builds on 7digital's existing bond with musical.ly, a live music company, and a music service for retail. The specifics of these contracts were not disclosed.
"Whilst issues of commercial confidentiality will always prevent us, before services are launched, from revealing the identities of many of our new clients, I am pleased to see the global scale of the business we are winning continuing to grow and that the clients we are winning now are in the business of delivering digital music to the mass market in all sorts of innovative ways," CEO Simon Cole said. He added that 7digital is still tracking toward profitability in 2018.
The UK-based company is also creating an advisory board that will support its operations in the United States, offering strategic guidance and corporate partnership support. John Batter, former CEO of Gracenote, will be its chairman.