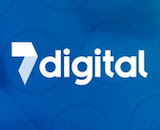 7digital has made another acquisition. The latest purchase is FlowRadio, an aggregator of live radio stations, on-demand radio programs and podcasts. Financial details of the acquisition were not disclosed.
"The acquisition of FlowRadio ensures we have access on our platform to live streams and listen-again content from every major world radio station, enabling us to support and deliver seamless listening experiences to consumers, in-car and as part of the connected home," 7digital CEO Simon Cole said.
7digital bought the platform from Imagination Technologies. The two companies collaborated on using and developing the FlowRadio technology in 2015.