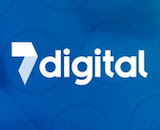 B2B music company 7digital shared its year-end trading update with its projected financial results from 2017. The company expects its 2017 unaudited revenue to reach £17.3 million, up 52% from the previous year.
"2017 was a year which marked a major transformation at 7digital," CEO Simon Cole said. "Our acquisition in June of 24-7 and, with it, the contract to supply services to MediaMarktSaturn throughout Europe has cemented our market leading position as a business-to-business platform in the rapidly growing market for streamed music and radio services. Perhaps more importantly, it led to a profitable H2 and a significantly improved EBITDA loss for the year, ahead of expectations. This provides the right foundation for full year profitability in 2018."
7digital started 2018 with an agreement to power direct licensed music for 8tracks.