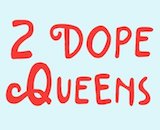 2 Dope Queens, a podcast under WNYC hosted by Phoebe Robinson and Jessica Williams, announced the end of its run. The popular comedy and storytelling show is closing with a special episode featuring former first lady Michelle Obama as the guest.
The hosts signed off with a note of thanks and appreciation to fans. "We could not have done it without you," they wrote. "The podcast was created as a space for female, POC, and LGBTQ performers to shine…We — and by we, we mean YOU — showed the world that people want and need to hear more diverse voices."
The end of the podcast is actually just the start of a new step for both the brand and its talent. 2 Dope Queens had already been translated into a four-part HBO special, and more television projects are forthcoming. The project is getting a second series of four hour-long specials, although the dates have not been confirmed.
Many podcasts have made the leap from audio to video, and HBO has proven a potentially valuable partner. The network also collaborated with Pod Save America for a similar four-part limited-run television series centered on the midterm elections.