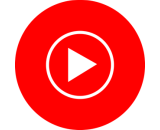 In what appears to be a report timed to the end of Q1, YouTube paid $4-billion in music royalties in 12 months. Additionally, and certainly related, the service added more paid members to the YouTube Music on-demand, ad-free subscription service in Q1, than in any other quarter since it launched.
"Our goal is to become the leading revenue generator for the music industry and to help artists around the world build a career making music," YouTube states in a blog post announcement.
YouTube's ad-supported free tier is the world's largest music distributor … or "the world's largest stage," as the company likes to say. It is available in 180 countries, while the subscription plan is available in about half that — 96 countries. Over 2-billion users watch music videos every month. That monthly active base is nearly seven times bigger than Spotify's total user population.
The platform is sourced by users and by music publishing companies. Interestingly, over 30% of the annual $4B payout to the music industry comes from monetization of user-uploaded music. "Fan-powered videos have always flourished on YouTube, helping artists grow their audiences and break songs around the world," YouTube says. "We're thrilled it's now also become a meaningful and incremental source of revenue alongside premium music content."
.