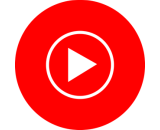 A teardown of the latest YouTube Music code updates reveal that Google may be adding a "retail mode" to the subscription service. YouTube Music 3.31 will be the latest update to the platform, and it is currently testing a mode that appears to let people try out premium features while they're buying phones.
The code for this retail mode makes mention of existing features for the on-demand streaming platform, such as personalized recommendations and a catalog of live performances, remixes, and covers as well as original tracks. If the feature is rolled out, that could allow stores to make YouTube Music's paid version a part of demos for Pixel smartphones. The Pixel 3 included a six-month free trial of YouTube Music Premium.
At latest count in May, YouTube Music clocked in with 15 million subscribers. YouTube and Google have made several efforts to launch paid on-demand streaming properties, but many of the efforts have foundered thanks in part to unclear branding and overlapping services.